The Countdown
So I'm into the final countdown. 24 hours till my East coast Relatives arrive at my door. (
Dust bunnies beware
) 4 days till my baby turns one, and 11 days until the Heart and Sole Run.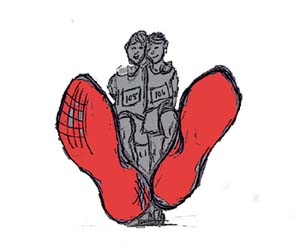 Heart and Sole Logo
Being a committee chair is tons of work! I realize this is a big DUH! Still, true, today is the deadline for the t-shirts with some eek room for delivery by race day. Aunt Ren designed these herself...isn't she a stud. She also designed our under the bridge safety Troll shirts, to be worn by the flaggers around the run route, so as to decrease saftey hazards and possible collisions under the bridges.
Which are not pictured below because HELLO IS STILL NOT WORKING, and I still haven't figured out flickr...maybe tonight I'll have two minutes to rub together. I'm neglecting my kid as it is and he has taken to drastic escape measure.
Time to wake up that bouncing baby boy and head to the library for StoryTime!