If Baby ain't sleepin'; ain't Nobody sleepin' !
Isn't that the truth! I sure do love Mr. Moo but he is such an effective alarm clock that even if you stay up until 1:30 am playing the SIMS (not working on sewing projects because that would be admirable) he is still up at 8am crawling all over your head!
Well, Mr. Moo and I headed off to the Stitch-in-Time meeting last night, unfinished tablerunner in hand. I wavered up to the last minute, I'm going/I'm not going/maybe I can call in sick. But finally I decided to go and bear the ridicule of being the lame duck with the unfinished tablerunner for the I don't know person.
Things went surprisingly well though, everyone got a good laugh out of my lameness at not knowing who my Secret Santa was because of course the leader asked me to start the exchange. So we got that right out in the open, and then I was one of three people without their runners done. One women finished hers at the meeting and another woman started hers yesterday. So I felt pretty good about my progress!
Here is my latest Giraffe, something I've finished lately! My sister requested this little lady for a baby shower she was attending. I love this fabric!
Lily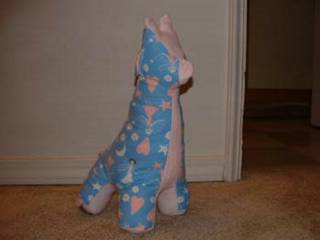 Check out Loobylu's Month of Softies, she has her
Accessorized Elephant
Photo Gallery up and December's theme. Go see all the pretty elephants!