SUPERFRIENDS
Fric!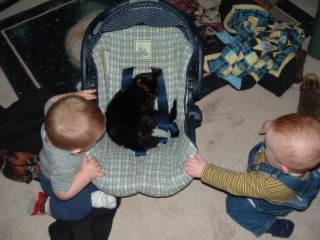 On Tuesdays and Wednesdays Mr. Moo (right) and I spend the day with his
BABY SMACKDOWN
buddy Cookie Monster (left). Here the Superfriends can be seen rocking Fric the kitty to sleep in Cookie Monster's car seat, this was right before Mr. Moo tried to eat her head. The little ones are one month apart, but developmentally pretty darn close, Cookie Monster learned to crawl last week and Mr. Moo put it together this weekend, so now they are into EVERYTHING.
Tuesday is Story Time at the Library so at 10:30 we load the Infant Mobile and head to town, for bubbles, songs, and social interaction (thats for me) the Superfriends almost always fall asleep on the way home leaving me sometime to run around with my head cut off, doing dishes, homework, and now Blogging.
Blogging is
slightly
addicting since I should be working on my paper for next week. But sheesh that is soooo boring! Blogging is also quiet...very important for these afternoon naptimes!